Middle East: What
Cinema
Can Do
is proud to present 60 films over a 14-day period. One third of the films are shorts and two-thirds are documentaries, each painting a different facet of the bigger picture. Docu-fiction works are more and more prevalent as filmmakers begin to portray the reality in their countries, searching new ways to communicate their messages. The TV format has also become a popular form of expression and outlet to get films seen; a dozen will be screened. A number of features, both fiction and documentary, will be seen at the festival before being released in theatres next year.
From the more than 150 films previewed, the films chosen illustrate the daily theme in which they will be shown, from Iraq and Kurdistan to Syria and Lebanon, Iran, Israel, Palestine, Gaza, Jerusalem, but also the Arab Spring, Women, Strangers in their own land ….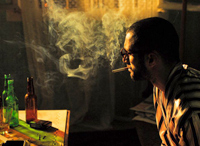 Screening date : 10/12/2011 -- 18h

Coffee - Between Reality and Imagination (Part 2)

Coffee - Between Reality and Imagination
is a cinematic collaboration between young Israeli and Palestinian filmmakers, who together created a series of short films, all dealing with the project title - coffee. Eight films were produced: two documentaries and two fiction films were made by Palestinian filmmakers, and four fiction films by Israeli filmmakers. Each of the films gives a personal and courageous point of view on the reality in which the filmmakers live.
"Like a small café on Strangers Avenue. It is love... open for all." Mahmoud Darwish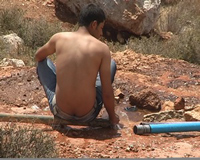 Screening date : 10/12/ 2011 -- 16h00

Courants Interrompus / Interrupted Streams

Traces of intertwined lives in a West Bank village. Israel controls the water supply; it provides to the Palestinian villages just enough water to quench the thirst, but when the supply is irregular, nothing grows. Control over the water supply dominates not only the various aspects of daily life, it dampens their spirit.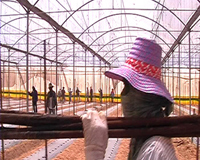 Screening date : 05/12/2011 -- 20h30

Don du ciel/ Gift from Heaven

A Thai worker in Israel is hit by a rocket fired from the Gaza Strip. Unable to work during two years, he gets deeply in debt and receives no assistance and is afraid of being expelled from the country. His Israeli employer complains of the State's irresponsibility while concealing his own exploitation of his workers. He explains the plight of the agriculture market: due to globalization and the Israel-Palestine conflict, which has forced him to import Thai workers since Palestinian workers are no longer allowed to leave Gaza Strip.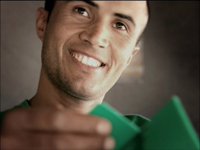 Screening date : 05/12/2011 -- 20h30

Eid

Eid is a Palestinian Bedouin living under Israeli occupation. Ever since he can remember, Eid has picked up scrap materials and turned them into art. By following Eid's creative process, this film celebrates the optimism and integrity which enables him to transform the machinery of occupation into an artistic expression of individuality and hope.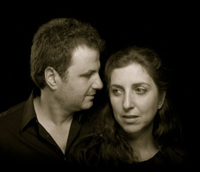 Screening date : 02/12/2011 -- 20h30

Les Fantomes de Joana et Khalil

A portrait of Joana Hadjithomas and Khalil Koreige, a unique couple who are filmmakers, photographers and artists whose work deals mainly with Beirut and its ruins. It is an artistic perambulation in a territory where imagination may well be the only refuge in the face of war.