Middle East: What Can Cinema Do?
presented 50 films for a viewing-packed week. Documentaries were in the majority, proving that the political and economic woes of the region have not stifled the filmmakers, but rather encouraged them to speak up. Half the films were features; ten shorts and the rest were mid-length works.
Works by these Middle Eastern film directors were complemented by a certain number of films by European and American directors, notably from Switzerland, Spain, France, the USA and Mexico. All the films presented at the event, in alphabetical order, are available below for you to discover.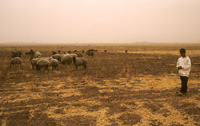 Screening date : 23-11-2007 -- 15h45

Iraq in Fragments

Iraq in Fragments
illuminates post-war Iraq in three acts, building a vivid picture of a country pulled towards different directions by religion and ethnicity. Filmed in verité style, with no scripted narration, the film powerfully explores the lives of ordinary Iraqis: people whose thoughts, beliefs, aspirations, and concerns are at once personal and illustrative of larger issues in Iraq today.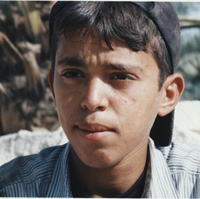 Screening date : 23-11-2007 -- 17h45

Iraq, My Country

Hadi Mahood fled persecution in Iraq in 1991 and settled in Melbourne, Australia. He was in exile for fourteen years. In the tumultuous months between the fall of Saddam Hussein's regime and the installation of a new government, Hadi journeys back to his home town of Samawa in southern Iraq. He documents the violence and volatility of a city in chaos, a city left in a vacuum of power. We see the new Iraq through the eyes of Samawa's citizens. Such as 15 year-old Ahmed, a boy forced to trade bullets in the local weapons market and Magid, the locally-renown "wise fool" of Samawa.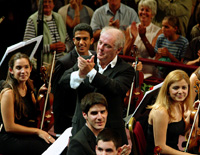 Screening date : 27-11-2007 -- 19h30

Knowledge is the Beginning

Closing Film
For many years, conductor and pianist Daniel Barenboim has worked towards reconciling Arabs and Israelis.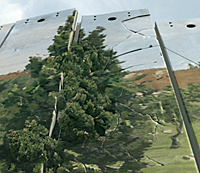 Screening date : 21-11-2007 -- 15h30

Ligne Verte (Green Line)

At first sight you see a wall-painting and hear sounds of building engines far away but still present.

This fresco represents a kind of Mediterranean landscape. Then you slowly discover the painting and its principal characters: the cactus, the cypress tree and the olive tree.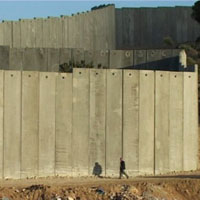 Screening date : 25-11-2007 -- 18h30

Last Supper – Abu Dis

The documentary,
Last Supper - Abu Dis
, records the final phase of Israel's wall construction in the Palestinian Village of Abu Dis. The village is located SE of East Jerusalem, near the West Bank border. Villagers have a panoramic view of Jerusalem. While workers finalize construction, the people share their thoughts and feelings about the wall, eight-meters high, erected just meters from their homes.