Middle East: What Can Cinema Do?
presented 50 films for a viewing-packed week. Documentaries were in the majority, proving that the political and economic woes of the region have not stifled the filmmakers, but rather encouraged them to speak up. Half the films were features; ten shorts and the rest were mid-length works.
Works by these Middle Eastern film directors were complemented by a certain number of films by European and American directors, notably from Switzerland, Spain, France, the USA and Mexico. All the films presented at the event, in alphabetical order, are available below for you to discover.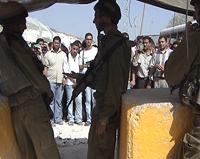 Screening date : 22-11-2007 -- 17h30

To pass an elephant through a needle's eye

The film follows one Saturday morning at the Beit Ibba checkpoint, one of the checkpoints besieging the city of Nablus. Beit Ibba checkpoint is not exceptional. There are dozens more like it in the West Bank. They do not separate the state of Israel and the occupied territories but are placed deep within Palestinian territory, and have one purpose: to impose hardship on people's lives, deny them freedom of movement, and imprison them in segregated, restricted territorial cells.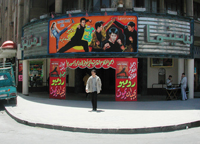 Screening date : 26-11-2007 -- 16h00

Un Cinéma muet (A Silent Cinema)

Upon graduating from a film studies program in Paris, Meyar al-Rumi returns to his native Damascus, eager to start making films. But when the script he proposes is rejected by the censors, he is instead inspired to make a portrait of Syrian filmmakers who have been most affected by censorship. Filmmakers, poets, journalists testify to various ways in which the creative act itself is stifled.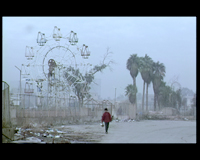 Screening date : 23-11-2007 -- 13h30

Winter in Baghdad (Invierno en Bagdad)

The President of the U.S. George W. Bush and the Prime Ministers of Spain Jose Maria Aznar, and Tony Blair of the U.K. declare without hesitation that Iraq possesses weapons of mass destruction threatening the whole world.. Part of the Spanish population mobilizes against war, and a group gathers, deciding to head towards Iraq, where they are to meet several other groups from various countries. Once they have reached Iraq, war breaks out and they proceed to go out to meet the victims, especially youths who are the survivors of the daily horror and no longer children in spirit.
Screening date : 25-11-2007 -- 21h00

Women in Struggle

Women in Struggle
presents a rare testimony from four female Palestinian ex-prisoners who disclose their experiences during their years of imprisonment in Israeli jails and the effect it has had on their present and future lives. Once content to live their lives as sisters, wives and mothers, each of the women became an active member in the national fight for Palestinian independence, though their 'crimes' differed markedly – one woman was detained in a peaceful protest while another was arrested for her participation in a bombing.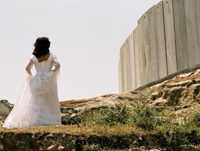 Screening date : 25-11-2007 -- 13h30

Yasmine's Song

A tale of two lovers trying to cross divides to be together … they thought nothing could stop them. Ziyad, a Palestinian man, who sells flowers in the nearby village. He's in love with Yasmine, a village girl. At night they meet in secret away from the disapproving villagers' eyes… and while Yasmine's parents are busy arranging her future, an unexpected event appears in everyone's lives.